The Athenaeum Rectory was begun in 1835 as a home for Samuel Polk Walker, a nephew of President James K. Polk. It had been designed by noted architect Adolphus Heiman and built by Maury County's master builder Nathan Vaught.
He never lived in the house, however, and upon its completion in 1837, it became the home of Rev. Franklin G. Smith and his family. The Moorish-Gothic architectural design, along with its other stylized features, makes it unique among Tennessee's antebellum homes.
The Columbia Athenaeum School for Young Ladies was founded by the Smiths in 1852 and for over fifty years it enjoyed a national reputation for its quality and breadth of curriculum, which offered courses in mathematics, science, and business…studies which were normally reserved only for young men.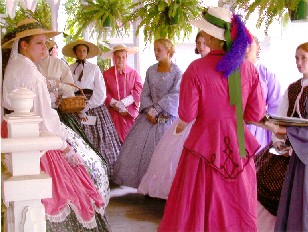 The school offered students well-equipped departments in art, music, history, science, and later on, a complete business and commercial department. The library contained over 16,000 volumes and the department of natural science held over 6,000 specimens, some of which remain and are on display.
Today, The Athenaeum Rectory is owned by The Association for the Preservation of Tennessee Antiquities and is maintained and operated by the Maury County Chapter of the APTA as a historic house museum. In an effort to continue the outstanding heritage of the original school, two important education events are still offered.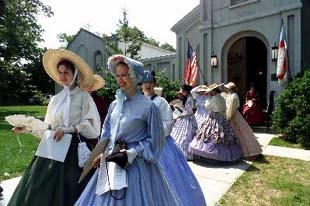 The 1861 Athenaeum Girls' School will be conducted during the week of July 9 through 15 in 2011. Young ladies age 14-18 come from all over the country, dressed in authentic 19th-century costumes, and study the same courses in etiquette, penmanship, art, music, dance, and the social graces. In addition, they participate in side-saddle horsemanship, archery, and other sports.
The week is highlighted on Friday evening with graduation ceremonies followed by the formal ball to which they are escorted by members of the Jackson Cadets, a local group of young men dedicated to the study of mid-19th century history and customs.
From April 29 – April 30, 2011, a condensed version of the school is offered to women of ages 19 and above. Also attired in 19th-century costume, for two days the ladies participate in the same kinds of activities taught by the same qualified faculty as do the young women.
For more information on the 1861 Athenaeum Girls' School and 1861 Ladies' Weekend, you may call (931) 381-4822.